Hey Crafty People!
I have some super easy Christmas gift tag inspiration to share today, using some more of the gorgeous fabric paper from Papers For You's Last Christmas collection.
I love making my own gift tags, I feel like a handmade tag really shows a person how much you care and they're a great way to use up leftover products/offcuts to save letting it go to waste!
I admit, some tags I do put a whole boatload of time & effort into, but these honestly took next to no time at all!!
I started with a 12×12 sheet of patterned paper; it was dotted with these beautiful Christmas Trees with 'Merry Christmas' written into the shape. I really love the
image but the size/position of them on the sheet wasn't really working for me when I was trying to get a card panel out of it. So I decided to grab my tag dies and see if it would fit nicely onto any of them; the second largest die in my set was a perfect fit, so I cut four out. I was left with some bits that weren't big enough to use the same die, but I have a mini tag die which was a great size for just the Merry Christmas from the image, so I cut two more out.
I also grabbed one of the sheets from the 'Last Christmas' 12×12 double sided paper which I thought would contrast nicely. I cut two of the large tags from this to pair with the two small tags, then I also four chose places to cut four of the mini tags from this paper too.
I wanted my tags to be sturdy, so I cut another tag for each of the six large & mini ones I already had, from 110lb Neenah.
I glued the two back to back because the dies have a stitched detail on them and I wanted this to be visible when you look at both sides of the tag.
I used some Lawn Fawn black & white Lawn Trimmings to tie each large tag to a small one and left this loose so that it could either be tied or taped to gift wrapping when I am ready to use them.
They really were so easy to make, the longest bit was die cutting all of those tags!
---
---
Please be aware:
As part of my Design Team and Guest Design work I do often receive free products to use, but I only ever recommend products that I genuinely love.
Also, I know how incredibly lucky I am to have these opportunities, but you don't always NEED the newest products or the 'full set'.
So please don't feel that you need everything.
I like to show a variety of brands and products; this way; this way there will be something for everybody to enjoy.
---
— SUPPLIES —
— My Basic Supplies That I Use On Every Project —
Affiliate links are used
*Affiliate links are used, where available; this means that I may get a small commission if you purchase using one of these links, at no extra cost at all to yourself. A huge thank you goes to anyone who does purchase using my links, it is so highly appreciated.
I couldn't find the exact set of tag dies I have, so I have found some similar and linked them below.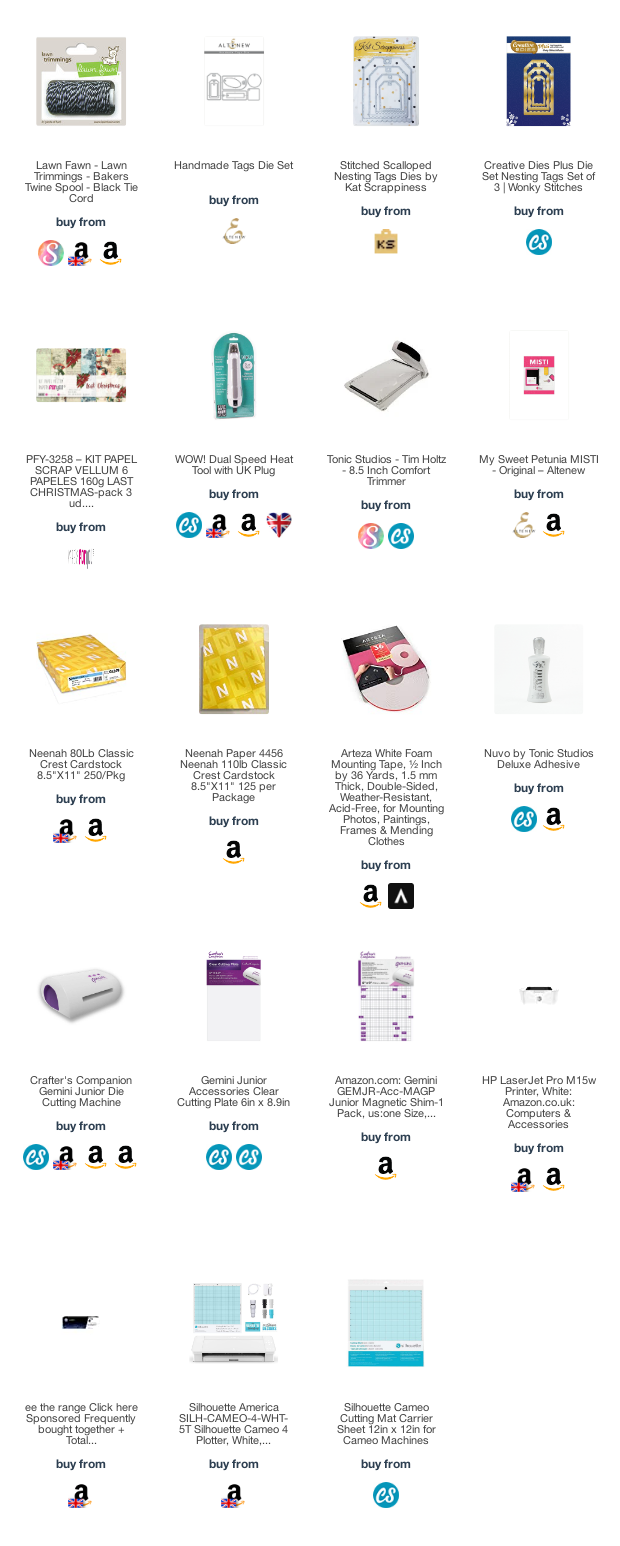 https://linkdeli.com/widget.js?id=f5e8378456858c916708