Hey Crafty People!
Over the last 8 months I've been working on my Altenew Educator's Certification Programme; I have completed 25 separate Altenew Academy classes, 2 end of level assessments and the final hurdle was a live workshop with 4-10 participants. (*Due to current restrictions, this was a Virtual Workshop.)
In this post I will discuss the planning, products & techniques, along with some details about the workshop itself and feedback from my participants.
---
Planning My Workshop
---
In the planning stages for my workshop I thought about the Altenew products that I love to use, and the style of card making that excites me the most.
I love the juxtaposition of soft and bolder design elements; that beautiful drama you get from bold geometric elements that work to ground a delicate flower.
This is what I chose to cover in my class and I decided to call it Modern, Clean & Simple Cardmaking. I made three cards as my samples for us to recreate during the workshop, but I only anticipated us making two of these.
I made a sign up form using Google Forms, this worked to give me the contact details of my participants but also established their level of competency with the basic techniques we would be employing during class.
I chose three featured products and also some additional Altenew products that I would be using throughout; inks, markers, pens for example.
When I took the photographs of my samples I included the additional Altenew products that were used alongside my featured products; this was a conscious decision to have that Altenew branding on display for people to see. I wanted to include little pieces of inspiration of what amazing results you can get when using Altenew products, because I genuinely love them.
As well as my 3 sample cards, I created a BUNCH of extra cards to show the hugely different ways I employ the same basic principles we covered to my cardmaking; both using the same core supplies we had used in class and also using a range of other Altenew products. (I will be featuring each of these over the next few weeks here on my blog and over on my Instagram & Facebook pages.)
---
Promotional Video
---
---
Featured Products
---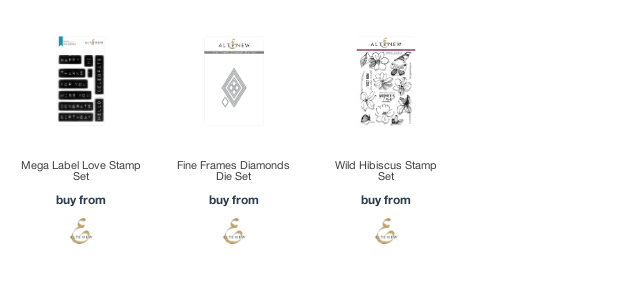 https://linkdeli.com/widget.js?id=f5e8378456858c916708
---
Techniques Used
---
Class Topic Techniques
Modern Card Design
Clean & Simple Cards
Simple Design Principles – Choosing placement, Common Margins, Grounding Images, Balancing a design, Framing a design.
Stamping & which ink can I use?
Die Cutting
Simple Alcohol Marker Techniques
Extra Details That Elevate Designs
Card Number 1
Inking Techniques – direct to paper ink swiping
Super quick & easy background creation
Monochromatic Colours
Masculine Florals
Card Number 2
Adding a Single Pop of Colour
Easy Watercolour Media
Basic Ink Blending
Card Number 3
Balancing Bright Colours – why colour theory matters
Expanding on Inking Techniques
Heat Embossing
Die Cut Inlay
---
Participant Response
---
I had six students taking the class and they all seemed to be feeling very positive both during the class and afterwards. They shared many images of the cards they made during class, and several of the participants also felt inspired to continue creating with the materials we were using to create their own designs straight after the class!
Several also said that they had some of the supplies already but hadn't known how to use them, but felt that they had tons of ideas after the workshop. I loved hearing this; my hope was to inspire them to take the principles & ideas we covered in class and to use them in their own craft.
I created a feedback form to send out to each participant after that class was over, in order to get some honest feedback I kept this form as anonymous to allow people the opportunity to offer constructive criticism should they wish to. At the point of writing this blog post I have had four completed feedback forms and the response has been overwhelmingly positive! (*I will forward the results on via email to Erum & Virginia at Altenew.)
---
Students' Gallery
---
---
My Thoughts On The Workshop
---
I thoroughly enjoyed the experience of crafting along with everybody, and I honestly felt very comfortable once I had got into my stride with the class. I do think that my time management during the class could be improved and this is definitely something that I would work on in the future. I was very conscious that I didn't want to go too fast and leave anybody behind, and that definitely led to me being overly cautious in the first half of the class; but after some encouragement from Virginia I feel that I definitely improved on that in the second half.
---
Going Forwards
---
I loved creating this workshop and I have so many more ideas and lessons that I would continue to build upon after these first classes! I would absolutely love to work on these ideas further for future workshops, or even Academy classes! That really would be incredible!
---
My Thoughts On The AECP
---
I have absolutely LOVED working through the AECP course over these last 8 months; I am certain that the evidence of what I've learnt is apparent both within my cards themselves but also in my blog, project photography, video creation and in my confidence.
In my workshop planning I wrote about myself and what I will take from all of this and I'd like to share it here too:
---
I began crafting after I was taken ill in 2016 and I soon discovered the joy it brought me to be able to do something; I was unable to walk and my hands didn't do everything I wanted them to, but I could still achieve something and that was such a revelation.
In card making I found the opportunity to work with whatever medium I fancied that day, making whatever I felt inspired to do in that moment. I could make these small pieces of art that would go out into the world and hopefully put a smile on someone's face.

Soon, I started sharing my creations online; it began as a way for me to document my journey but I realised that others were beginning to find inspiration within my posts, in the same way that I did from the posts of others.
This Certification, and the future it represents, mean more to me than I can adequately express; I have honestly never wanted anything quite so much as I want this.
I truly believed that I could never build a career for myself when I was taken ill; I saw a life that was defined by what I couldn't do.
In this, I see a life defined by what I can do.
---
Thank You's…
---
I would like to thank Erum Tasneem for her support & encouragement throughout my Levels 1 & 2, then subsequently the additional five classes after my Level 2 Assessment.
I would like to thank Virginia Lu for her support & encouragement throughout the planning and execution of this workshop.
I would also like to thank both ladies for their kindness & support during the workshop itself.
Lastly, thank you to Altenew for the opportunity to work through this programme; my acceptance into it was a huge turning point for me, in terms of self confidence and a belief in what I can achieve.
---
---
Please be aware:
As part of my Design Team and Guest Design work I do often receive free products to use, but I only ever recommend products that I genuinely love.
Also, I know how incredibly lucky I am to have these opportunities, but you don't always NEED the newest products or the 'full set'.
So please don't feel that you need everything.
I like to show a variety of brands and products; this way; this way there will be something for everybody to enjoy.
---
— SUPPLIES —
— My Basic Supplies That I Use On Every Project —
Affiliate links are used
*Affiliate links are used, where available; this means that I may get a small commission if you purchase using one of these links, at no extra cost at all to yourself. A huge thank you goes to anyone who does purchase using my links, it is so highly appreciated.
---
— SUPPLIES —
— My Basic Supplies That I Use On Every Project —
Affiliate links are used
*Affiliate links are used, where available; this means that I may get a small commission if you purchase using one of these links, at no extra cost at all to yourself. A huge thank you goes to anyone who does purchase using my links, it is so highly appreciated.

https://linkdeli.com/widget.js?id=f5e8378456858c916708