Hey Crafty People!
I was a little too late in qualifying to be a part of this month's Educator Blog Hop, but that doesn't mean I can't join in the fun anyway!!! ?
The theme is Geometric & florals and that is so my jam!!!! This is the first of three of cards I'm submitting to the link party! ??
This first card was massively inspired by a video that Jennifer McGuire recently shared with a Guest called Bromley Cards; he makes these amazing cards, adding geometric doodles to floral stamps and it honestly inspired me so much!!
I stamped the large Statement Flowers onto a Neenah 80lb card panel along with a sentiment from Mega Label Love stamp set.
I grabbed my Fine Frames Diamonds & Circles dies to use as stencils and two fineliner pens; then I just got to adding circles and diamonds all round the flowers. I kept stopping when my lines came to the image and continuing after the image if applicable.
I finished the panel by adding a doodly border around the edge in a black fineliner.
This is definitely a technique I want to try again; there are a few bits that I wouldn't do again if I had the chance but overall I'm pretty happy with it!
I started by embossing the diamonds background stamp with WOW White Pearl embossing powder, once that was done I grabbed my Pocketful Of Sunshine mini ink pads and I swiped them directly over this embossed pattern. I wanted to see whether this would work; the embossing resists the ink but would it settle into the paper between the embossing?
I absolutely LOVE how it turned out, so I will definitely be experimenting further with that idea!
I embossed a floral from the Wild Hibiscus stamp set in Gold on Vellum and fussy cut it out.
I used the Fine Frames Circles to add several black circles which I have intercepting the other elements in various positions. For example, I have the stem of the flower under the circle but the bloom is on top of it.
Each element that I added is anchored to another one which I think is so crucial to getting a cohesive and visually appealing design.
I stamped the AMAZING flower from the Calming Reverie stamp set; I chose Ruby Red to go with black & white for a really dramatic colour scheme. There's a reason why this is such a classic colour scheme!!
I cut the Fine Frames Circles die from the flower panel and I inlaid the piece of the flower back, but swapped some of them out for black circles just to add some additional interest.
This time I used one of the Sentiments Strips dies, cutting it from the same black cardstock as the frames that I inlaid.
I finished the panel with a thick, bold frame that I drew in with fineliners before filling in with a black, water based marker.
So those are the three cards that I would like to submit to the Altenew Educator's Blog Hop!! ? And on a side note, I can't wait to be able to join in with an Altenew blog hop!!!
---
---
Please be aware:
As part of my Design Team and Guest Design work I do often receive free products to use, but I only ever recommend products that I genuinely love.
Also, I know how incredibly lucky I am to have these opportunities, but you don't always NEED the newest products or the 'full set'.
So please don't feel that you need everything.
I like to show a variety of brands and products; this way; this way there will be something for everybody to enjoy.
---
— SUPPLIES —
— My Basic Supplies That I Use On Every Project —
Affiliate links are used
*Affiliate links are used, where available; this means that I may get a small commission if you purchase using one of these links, at no extra cost at all to yourself. A huge thank you goes to anyone who does purchase using my links, it is so highly appreciated.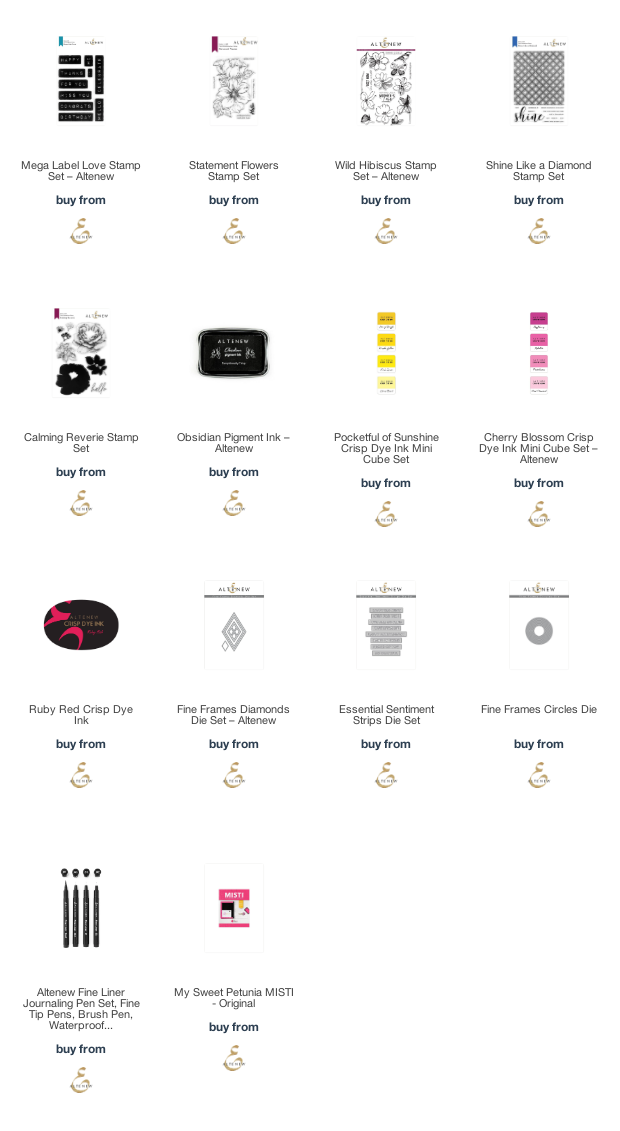 https://linkdeli.com/widget.js?id=f5e8378456858c916708