Hey Crafty People
I'm super excited to be part of today's Altenew Educator's Instagram Hop! We are all doing the theme 'For the Love of Altenew', using some of our favourite Altenew products, and I chose some of my current favourites!
This is an Instagram Hop so to be in with a chance of winning one of the $20 gift cards that Altenew are offering, you need to head over to Instagram and follow the instructions in my post.
Also, if you are interested in becoming an Altenew Educator yourself, you can check all of the details for Altenew's Educator Certification Programme (or AECP) here.
So, back to my card for today's hop; I chose to do a little no line watercolour painting with the brush markers, but I changed it up by painting onto vellum!!
I had seen a few different examples of using the brush markers onto vellum and I really wanted to give it a try.
I coupled that with a no line vellum technique I used for one of my AECP classes (you can check that out here.)
Basically it involves embossing your image onto vellum using Clear Matte embossing powder, and once this is set you turn over the vellum and the image really is invisible!
You are painting on the back of the vellum, so you can only use this technique with an image that can be reversed and still make sense!
You have to be really careful when painting onto vellum as it really won't take much water at all; so I worked really slowly, spreading out the portions that I coloured so as not to get one particular area too wet.
It's also a little tough to see the image when painting, so you need to go slowly and identify each part of the image before you commit to adding paint!
When working with the Altenew Watercolor Brush Markers, I like to add colour to a palette first, before transferring it to my image with a smaller paintbrush; this is just because these markers are highly pigmented and I find it so much easier to control the pigment this way.
After I had finished painting and the image was completely dry, I fussy cut it and set it aside whilst I completed the rest of my elements.
I ran an a2 panel of black heavy weight cardstock through with the gorgeous Dotted Lines Debossing plate; I love how much texture and interest this adds to a background but it's still subtle enough not to take focus away from your focal image.
For my sentiment, I chose a green ink colour that matches the Watercolour Brush Marker that I used to paint my image. Altenew offer matching colours in all their inks, alcohol markers, watercolour mediums, embellishment dots etc, I absolutely love this about Altenew products; it makes choosing colours so much easier!
Attaching vellum can be tricky because no matter what claims a product makes, you will always see the adhesive through the vellum, so the best way I've found is to be a little canny about where you place tiny dots of wet adhesive. I added dots behind the darkest parts of the leaves, on the embossed portions of the jar, plus you see those sequins & the sentiment…they cover a multitude of sins! ?
I added the circular sentiment, which is also from the Eucalyptus Jar stamp set, popping it up onto foam adhesive for extra dimension.
I had so much fun creating this card and I really hope you like it! Don't forget to head over to Instagram to hop along for the chance to win one of five $20 vouchers that Altenew are generously offering.
For a full list of supplies, please see below.
---
---
Please be aware:
As part of my Design Team and Guest Design work I do often receive free products to use, but I only ever recommend products that I genuinely love.
Also, I know how incredibly lucky I am to have these opportunities, but you don't always NEED the newest products or the 'full set'.
So please don't feel that you need everything.
I like to show a variety of brands and products; this way; this way there will be something for everybody to enjoy.
---
— SUPPLIES —
— My Basic Supplies That I Use On Every Project —
Affiliate links are used
*Affiliate links are used, where available; this means that I may get a small commission if you purchase using one of these links, at no extra cost at all to yourself. A huge thank you goes to anyone who does purchase using my links, it is so highly appreciated.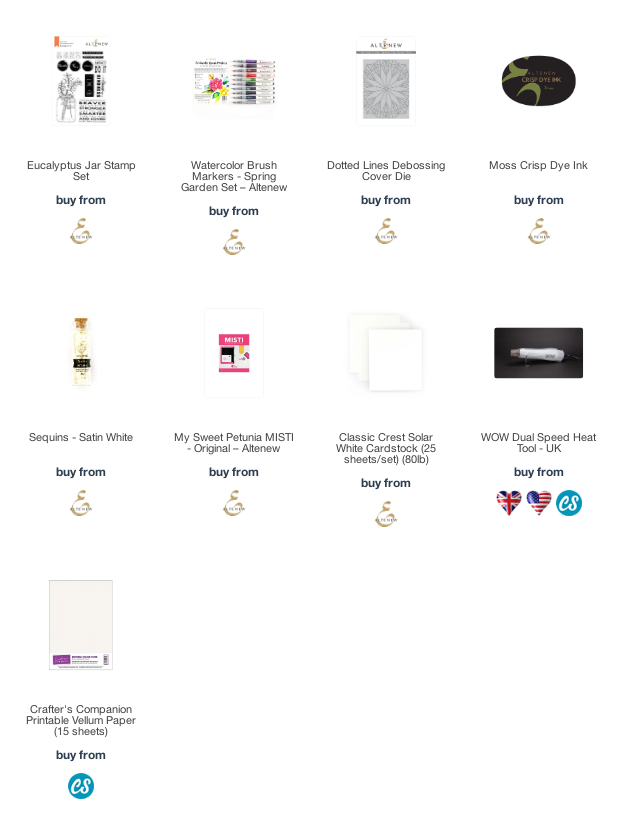 https://linkdeli.com/widget.js?id=f5e8378456858c916708